We produce Spiral welded finned pipes and Tubes in wide different diameters and fin configurations and metal combinations to meet your heat transfer needs.
High frequency spiral welded fin tubes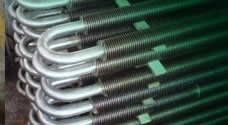 serrated fin tubes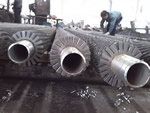 Nickel Brazed osmosis layer fin tubes: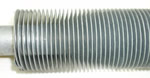 welded spiral fin tubes ( fin tubes ), is a highly efficient heat transfer components. Its heat transfer area of ​​the optical tubes (pipes) several times or more, enhanced heat transfer, reducing the flow resistance, reducing the metal consumption, thus improving the economy and operational reliability of the heat transfer equipment. At present, high frequency welded helical (spiral) fin tubes has been widely and has been widely used in a variety of chemical, electric power, metallurgy, petrochemical, boiler, building materials, textile, environmental protection, dry, medical field.


Available tubes /pipe material for fin tubes:
fin material: carbon steel, corrosion-resistant steel, stainless steel, alloy steel, copper
welding finned forms: real teeth, opened teeth(serrated fin tubes)
general used materials:
Supply Range of base tubes (pipes) (core tube): Carbon Steel ASTM A 179, ASTM A 192, ASTM A 210 Gr. A1, ASTM A 210 Gr. C, ASTM A 106 Gr. B
Low Alloy Steel ASTM A 209 T1, ASTM A 213 / A 199 T11/T12, ASTM A 213 / A 199 T22, ASTM A 213 / A 199 T5, ASTM A 213 / A 199 T9, ASTM A 335 P1 / A 161 T1, ASTM A 335 P11 / P12 / A 200 T22, ASTM A 335 P22 / A 200 T22, ASTM A 335 P5 / A 200 T5, ASTM A 355 P9 / A 200 T9
Stainless Steel ASTM A 213 / A 312 TP 304l, ASTM A 213 / A 312 TP 304L, ASTM A 213 / A 312 TP 321, ASTM A 213 / A 312 TP 316, ASTM A 213 / A 312 TP 316L, ASTM A 213 / A 312 TP 347, ASTM A 213 / A 312 TP 316Ti, ASTM A 289 / A 790 UNS S 31803, ASTM B 677 Alloy 904L
Nickel ASTM B 161 Ni 200, ASTM B 161 Ni 201
Copper tubes
Diameter of pipes mm
pipes wall thickness mm

Fin tubes (pipes) length

m
Fin height mm
Fin thickness mm
Fin spacing mm
Fin tooth width mm
OD 16~273
1.65~30

up to 30

5~60
0.5~3
2.5~50
4.0~7.9